Jake & Chantel
Hoping to Adopt
(Florida)
Letter
Once upon a time
---
We feel it's time to grow our family again through the miracle of adoption
---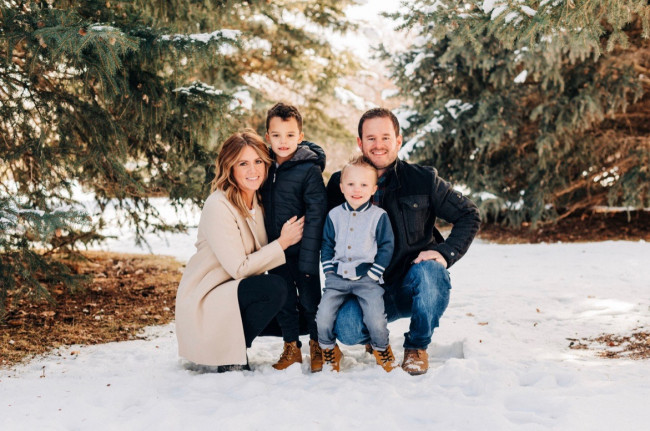 Family adventures
Once upon a time, not too long ago, a baby girl was born in Southern Utah. She was a beautiful baby with red hair and blue eyes, her parents decided to name her Chantel. Chantel grew up loving animals, barbies and dolls. She especially loved kitties. All the kitties in the neighborhood knew they could come to her for a special treat and attention! Chantel started dancing when she was 5 years old and continued through college dancing for the Dixie College Dance Team. Chantel loved the time she spent with her older brothers and sister boating, four-wheeling, and snowmobiling at their family cabin! As she grew up she pondered often on the man she would marry and the children they would raise together…being a mom was her greatest ambition. Three years earlier, an adorable curly haired, big dimpled son was born, to loving parents in Northern Utah, his parents named him Jake. Jake grew up on a farm, plowing the fields and stacking hay on a trailer. He fed the lambs and the horses and enjoyed time snowmobiling and go carting in the fields surrounding the house. At an early age, Jake developed a love for airplanes and for flying. He flew his first plane on his 12th birthday and continued flight school after his mission. During high school, Jake wrestled, played golf, and enjoyed playing jokes on his friends. He served a full time LDS mission to Uruguay. He loved the people there and as his time there grew to an end, he pondered often on the woman he would marry and the children they would raise together…being a dad was his greatest ambition. Jake and Chantel met on a blind date and it was love at first sight! (Literally!) They spent every second they could on the phone or together and they knew they would be forever 3 months later. They were married in the St. George temple in the fall of 2006 and there began their happily ever after. I want to tell you a little bit about my husband, Jake. I knew he was amazing when I married him, and now that we have spent nearly 13 years together, I continue to be amazed at Jakes self discipline, his kindness, his love for family and the Lord, and his desire to do what is right. Jake is a complete package. Jake gives 110% at everything he does. Whether it's a "man" project, at work, or around the house, or making our marriage the happiest it can be…he goes all out. Jake likes to be the "best" at everything he does. And he works hard to learn and practice to make sure he is the best! He wants to be the best husband and uncle and son and he makes many personal sacrifices to ensure that those he loves feel taken care of and provided for. Jake has a kind heart and is the best Dad. He already has a great sense of when to allow life's lessons to be learned and when to have fun! My greatest blessing besides my testimony of the gospel, is my marriage to Jake. Chantel is my best friend and she is the most loving person I know. She goes to great lengths to make sure that I feel happy and taken care of. I love it when she leaves me notes on our mirror. They always make my day!. One of the things I love the most about my marriage to Chantel, is how much laughing we do together. We laugh everyday!! I love to hear her laugh! Chantel knows how to relax and play with the best of them, but she also knows how to work hard. She keeps our home very clean and organized, and she keeps me and the boys fed with her great cooking. I love to see Chantel being a mom. She is so crafty and creative and she loves to be home, making it a beautiful place with her art and photography. Chantel keeps our family on track. Her testimony of the gospel, is strong and bright and amazing. I love her for everything she is and everything she does to make my life happy and fulfilled. She is such a blessing to me. Our life as a family really began as we welcomed our two sons into our lives.  First Brooks Daniel in October of 2013 and then Wade Robert in October of 2015.  We will never forget the first time we held each of our boys.  We marveled at their tiny features and perfect bodies and with each of their arrivals, our hearts were healed.  Emotionally we were overcome with gratitude at the marvelous gift that each boy was to us.  We love and are so grateful for each of their birth moms and birth families and consider their families as extensions of our own.  We treasure and value our relationships with them so much and hope they know that they have blessed our lives more than we could ever describe.  Adoption is a miracle!  One that we have experienced and one that we believe in.  It is time for our family to grow once more through the miracle of adoption.  We feel urgency that now is the time and we have faith in our Heavenly Fathers plan for us and know that he will help guide our next child to us through you.  What a blessing it will be for us to bring another baby into our home!  We are so excited to watch our family grow and to feel the love that another child will bring.
Our latest adventure
---
FLORIDA
---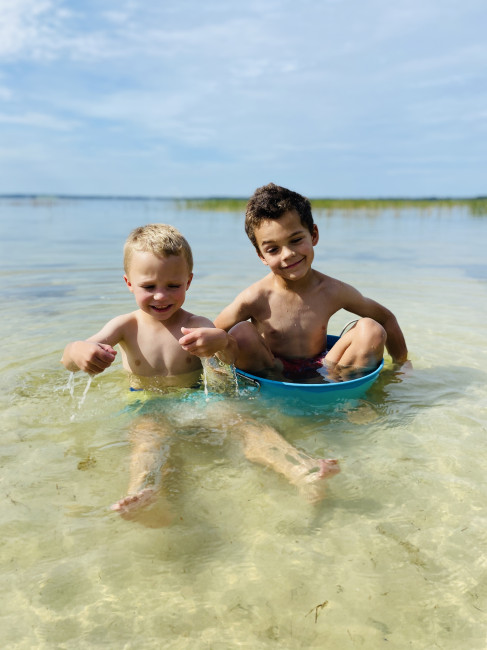 Playing in the water all day everyday
During the recent COVID situation, we were presented with an opportunity to move to Florida for a while. As we are prayed and calculated everything, we felt like it was the right timing and the right opportunity for us. We are already making new friends and enjoying the sun year round! Utah will always be home, but Florida is constantly surprising us with it's beauty and adventures!